Christy did her Bookish Confession - and she just let you guys know one thing and went into detail about it. Well, for my Confessions Part II, I will be giving you guys a few confessions and just giving a little rant about each one. So, I'll let Usher bring me in...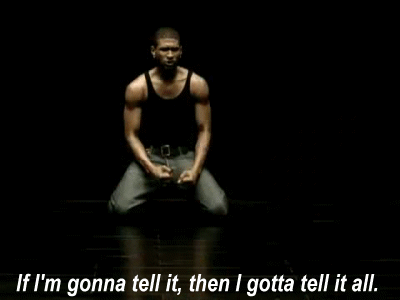 Confession Number One
When I would start to read a book...I would read the ending first.
Crazy? I know, but it was just an awful, terrible habit that I had. Past tense, I stopped that crazy act and actually started reading and enjoying the book. I hate spoilers now and look back and wonder why the heck would I do that to myself.
Confession Number Two
I have yet to read the Harry Potter books, but have watched the movies.
I used to hate Harry Potter - no reason, just liked being outside the box when it came to my group of friends...well they made me cave. My sister hounded me about watching them because she was in love with the movies...so I did. I really enjoy the movies, though am not a fanatic like others because I have only seen them once. I have the set of books and I need to read them ASAP so I can actually understand the story and read J.K. Rowling's wonderful words.
Confession Number Three
I hate don't like to buy books for other people...
Okay, yes I love showering people with gifts (it's like my favorite hobby, ask my boyfriend) and I love to gift people with the amazing books that I have fallen in love with...but when I buy a book I want it to be put on my bookshelf not someone else's. Yes, I'm selfish, but I would rather buy myself books...I have gotten better though because I love buying Christy books! :)