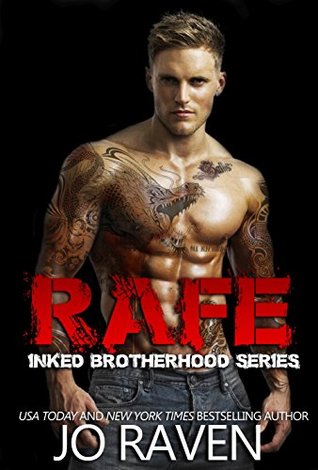 Format: e-ARC
Source: via Author
Publication: April 13, 2015
Genre: Romance, NA
Rating: 4 out of 5 stars
His name is Rafaele Vestri, Rafe to his friends.

He's tall, strong, handsome. Distant. He often comes to the café where I work, but we don't talk much. He looks at me, though. Stares at me, his gaze heated, and I can't help but stare back. I want him, I won't deny it. I've never seen anyone that beautiful, anyone that powerful, in my life.

But he's growing more withdrawn by the day. Something's up, and he won't tell. I know about his past – the murder of his family when he was fifteen. I can imagine what it must have cost him. So much violence contained in that strong body, waiting to be unleashed. What is he seeking? What is he training so hard for? Why is looking at me like he's dying to touch me, but won't dare?

Even as I try to stop thinking about him, get interested in other boys, I realize I can't. I'm caught, body and soul, just like that. And I tell myself, Megan, girl… What have you gotten yourself into this time?

Standalone novel. No cliffhanger. *Warning: this book contains graphic language, sex, and violence. Mature readers only. Not intended for young readers.*
My Review
I was so excited to start reading this book, the synopsis just brought me in and I was in need of a steamy read. I haven't had a lot of romantic reads lately and this one definitely hit the spot.
Rafe is going through a lot in his life--his past is haunting and has stayed with him for the past few years. Each day is a new beginning, though he can't seem to start fresh with everything and every day coming closer to what he wants to avoid. He just wants to live a normal life. But, he wants to do one thing before he even thinks about moving on, and that thing might kill him. Thankfully, we have a wonderful character named Megan who sweeps Rafe off his feet. They have been lusting over one another for some time now, but both have pasts that they want to avoid...so they avoid each other as well. Though, that ends soon and the steaminess begins.
Megan is Rafe's safe haven, whether either of them see it that way or not, they both are each other's steeping stones in life--which is so beautiful. This story shows us that growing is something needed in life and we need to see ourselves through other people's eyes to be able to see the beauty within us. I know this sounds sappy for what's supposed to be a steamy read, but there is so much more to this story, which is beyond my ability of words right now.
You see struggle through the characters, and not just the two focal ones. Everyone has a tie in with this book, especially the boys from the other books in the Inked Brotherhood series. You see friendships unwind, come together and bloom. You see love in ways you never thought could happen and you see people grow into people that they had underneath them all along.
This book is thought provoking, heart-shattering, and of course...sexy! I highly recommend this read if you want to fall for two amazing characters and you need a little spark in your reading life.