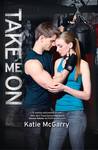 Format: Hardcover
Source: Purchased
Publisher: Harlequin Teen
Publication Date: May 27, 2014
My rating:
5 of 5 stars
Acclaimed author Katie McGarry returns with the knockout new story of two high school seniors who are about to learn what winning really means. Champion kickboxer Haley swore she'd never set foot in the ring again after one tragic night. But then the guy she can't stop thinking about accepts a mixed martial arts fight in her honor. Suddenly, Haley has to train West Young. All attitude, West is everything Haley promised herself she'd stay away from. Yet he won't last five seconds in the ring without her help. West is keeping a big secret from Haley. About who he really is. But helping her-fighting for her-is a shot at redemption. Especially since it's his fault his family is falling apart. He can't change the past, but maybe he can change Haley's future. Hayley and West have agreed to keep their relationship strictly in the ring. But as an unexpected bond forms between them and attraction mocks their best intentions, they'll face their darkest fears and discover love is worth fighting for.
My Thoughts:
Wow! It seems like Katie McGarry just keeps getting better and better! Every time she comes out with a new book I find myself saying "That was my favorite in this series" and this time is no exception. Take Me On is my favorite in the Pushing the Limits series.
At first I was a little apprehensive about West getting his own book and to be honest I was soooo ready for Abby's story *cough* HINT HINT *cough* but once I got started on this story I was immediately hooked and I loved everything about it; the story; the characters; EVERYTHING.
West has felt like a failure his entire life, hell, he was born for a certain purpose and he couldn't even accomplish that. But that's not who he is at all, he just can't see it….until Haley. Haley has had a rough year, her father lost his job, and then they lost their house and had to live in a homeless shelter for a while. Then she had some things happen with her boyfriend (ex now) and all of that together changes her and she feels like she's not worth fighting. But the night that she almost gets run over starts a series of changes that will make her a better person and make her see that she is worth fighting for and there's someone out there who will never stop fighting for her.
McGarry's writing is so flawless and amazing that if she wrote a dictionary I could probably sit down and read it without getting bored. She knows how to draw the readers in and keep them hooked until she's ready to let them go. If you haven't read one of her books yet, then do yourself a favor and drop what you are doing and go to the bookstore/online store/…JUST SOMEWHERE and pick one up, because you are in for an amazing story.
----Christy